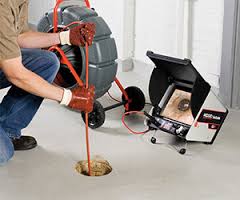 A video pipe inspection is done by, moving a specialized video camera all the way through the pipes. As a result the integrity of the pipe can be inspected from within the pipe. The most widespread video camera inspector is the sewer scope. It inspects an individual home sewer line which includes; the lateral main waste line and sanitation, which is from the house to the to the city's sewer connection.  The technician is able to scrutinize the pipe and record a video for the customer. The video will be used to determine the condition of the pipes, and whether or not it requires; replacement, repair, maintenance or if it is in good condition.
Reasons for Video Pipe Inspection
The following are some of the reason that a home owner would want a video pipe inspection:
A NOTICE FROM THE CITY: When an individual sewage system connected to the city's main line is broken, it requires fast attention. This is due to; the sewage being discharged into the soil causes environmental hazard. Therefore, the cities mainline are not only undermined but it can be damaged as the sewage moves the soil continuously. This kind of problem is not taken lightly by the city hence; they check the sewage systems with CCTV. As a result an owner's connection to that line can be checked and if damaged instructions to repair it is issued. When this happens, independent sewer inspection is recommended in order to:
Verify and ensure that it is your disconnected tap and not a neighbor's.
Identify any other hidden problems that can be easily repaired at the same time, even if they are in different areas.
Determine the exact location plus the depth of the line that will need repair.
SEWER PROBLEMS: When an individual has  problems with the sewer line, here are some things to consider:
Ensure proper maintenance of the line. This is done by cleaning the line hence, maintains the lateral flow that is free of debris like the excessive root infiltration and also fats, oil and grease build up.
Replacement of the sewer line if required. Care should be taken to ensure that indeed the sewer line requires full replacement.
A spot repair is required when there is a bad spot in the line that can cause backups.
NEW HOME WARRANTY IS ABOUT TO EXPIRE: Before buying a new house scoping of the sewer line is done, and it is a recommendation to be done. It is also important to have the inspection done to your house; before the house warranty is done.
PRIOR TO SELLING A HOME: Before placing a home on the market, a pre-listing video inspection should be done. If the problem is not solved then it should be disclosed to the buyer.