Tankless Water Heater Installation
Thinking of going tankless? We are happy to assist you. Call today for a free written estimate.
We are highly experienced in Tankless Water Heater installations. We take pride in customer service. We provide quick, clean and professional tankless water heater installation and repair services with competitive prices. Our reputation is built one satisfied customer at a time.
Why Tankless?
Continuous Hot Water – A tankless water heater heats water on demand. That means no storage or shortage of hot water.
Energy Savings – A tankless water heater is up to 30% more efficient than a 50-gallon tank water heater. This means our tankless unit could save you up to 40% of your hot water energy bill!
Longer Lasting – Tankless water heaters have a typical life of up to 20 years. This can be twice as long as a tank style unit!
Clean & Fresh Water – With tankless you avoid using water that has been stored in a tank with accumulated rust.
Space Savings – Tankless hot water heaters take up significantly less room than traditional water heaters. Mount on a wall outdoors or indoors.
We are Authorized service providers for Rinnai, Navien and Noritz. we are fully qualified to install, service or repair your tankless water heater.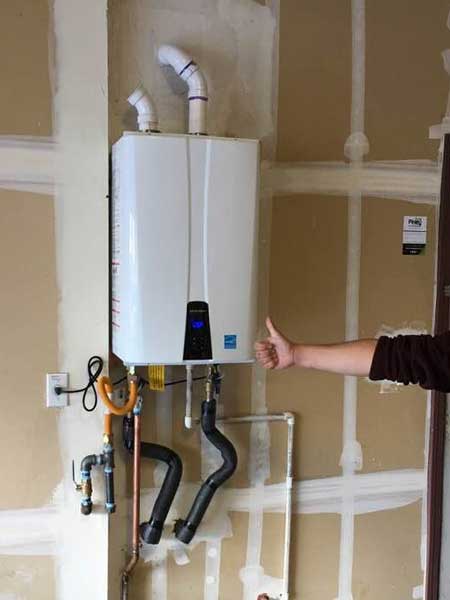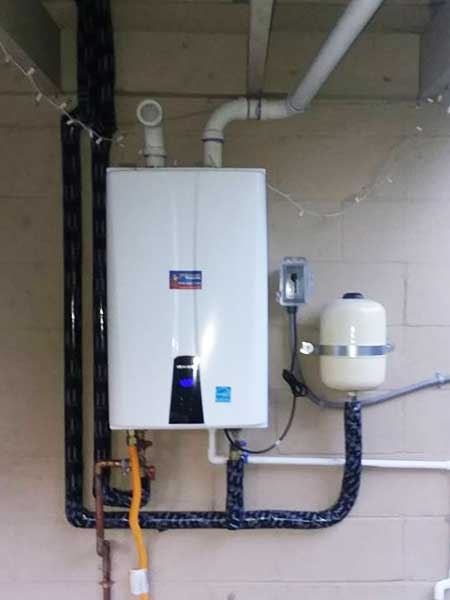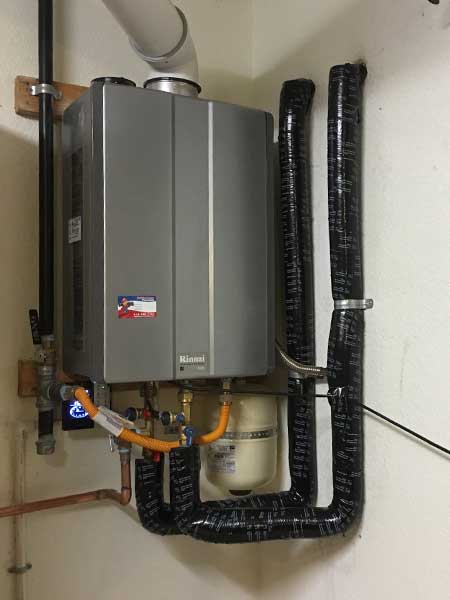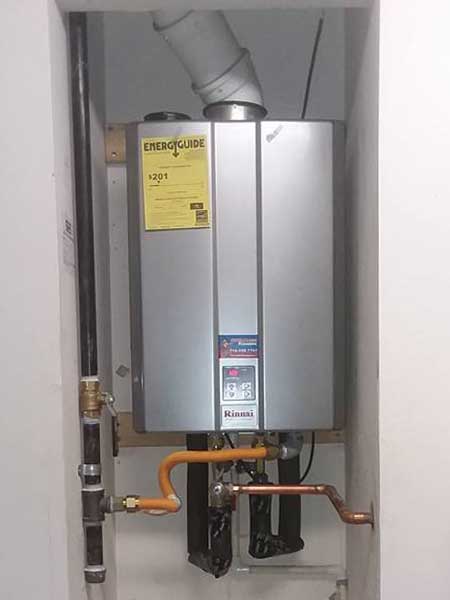 How Does Tankless Work?
The obvious difference between a tank and a tankless is its size. Not only will you gain significant space, but you'll also get continuous hot water with a tankless.
Tankless water heaters last longer than traditional tank water heaters and are usually backed with a 12-year warranty.
With a tankless, you won't be using hot water that is stored in a tank that can accumulate rust over time. Tankless units also allow you to set the precise temperature you are looking for.
Step 1 – A hot water tap is turned on.
Step 2 – The flow sensor detects the water flow.
Step 3 – The computer automatically ignites the burner.
Step 4a & 4b – Water flows through the heat exchangers. The burner heats the water to the designated temperature.
Step 5 – The tankless water heater provides a continuous stream of hot water. When the tap is turned off, the unit shuts off.